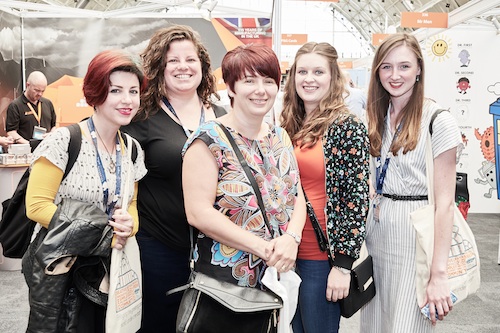 Feedback from the 2017 show will be added here shortly!
Claire Fitzgerald, assistant buyer, related products, Waterstones
"There were so many lovely touches added to this year's PG Live, making it a thoroughly enjoyable experience, from the incredible welcome we were given by Drummer's Delight courtesy of Davora, to the delicious lunch and vibrant decorations provided by Paper Salad!
I particularly enjoyed visiting the Springboard section, where you could find an array of wonderfully innovative ideas from exciting, new publishers.
I loved the quirky designs from Pippi & Me, which feature adorable handmade creatures and also the literary-inspired cards from Bookishly, whose Alice in Wonderland bookmark cards have been a huge success for Waterstones in recent months, as you can imagine."
Kate Briggs, buyer, Asda
"We really enjoyed the show as it gave us an opportunity to speak to a large number of our suppliers in a fantastic environment. I loved the new additions to Gemma's Little Thoughts range as well as the new style Purple Ronnie."
Claire Castle, senior buyer – greeting cards, WHSmith
"You do a really good job producing Progressive Greetings Live. It is not only the best greeting card show in the UK, due to the sheer number of publishers in one location, but as a buyer/supplier you feel really looked after during the day with endless refreshments and facilities.
I always use the show as a great way of catching up with existing publishers and checking I have seen everything new on offer. Timing is pretty perfect as well, since the show is literally one month before we select new ranges for the everyday/blank birthday range review in WHS High Street. I also use the show to check trends in general across the market and see if they match with our predictions back at base.
I saw lots of new ranges from existing publishers which we will be trialing in Jan 2016 – too many to mention! Introducing new suppliers is difficult for us as we already have cira 30, so I not actively looking for more unless they really offer something completely different."
Hannah Tait, buyer, Oliver Bonas
"Thanks for putting on such a great show as usual! I thought the show looked amazing and was clear that everyone had put in a lot of effort into their new ranges. PG Live gives you the chance to really focus on cards, which you can't do at other shows. I am always ready to see new designs at this time of year to freshen up the range for autumn. The show is short and sweet so everyone always has lots of energy and is in a good mood!
Stands which really caught my eye were Betty Etiquette (her typography was really on trend in the ranges Stellar and Inky Brush), the new YOLO range from Sooshichacha (great use of colour, which will really brighten up our spinners), and I thought Coulson Macleod has some really interesting designs."
Sarah Marsh, The Gorgeous Gift & Card Company, Biggleswade
"The free lunch was great and having the champagne for The Retas finalists was a lovely bonus!
The Sweeting Card collection was my favourite, which I ordered and sold eight of the cards the Saturday afterwards; customers thought it was a great idea to combine a card with sweets. I love that I don't have to worry about them melting as the shop gets hot in the summer, plus they offer a full gift margin rather than confectionery one.
The other company I loved was Copson Ltd (Inspired Goodbyes) which I spotted in Progressive Greetings magazine, but it was great to see the product before ordering."
Debbie and Jerry Brown, co-owners of First Class Greetings, Hadleigh
"What a great show! Where to begin? So many great companies. We spent our golden ticket with Inspired Goodbyes because we felt this product is unique, providing a contemporary but heartfelt offering to the sympathy card market.
There were lots of interesting new publishers in Springboard, but one that particularly caught our eye was Charlie Foxtrot, for its gentle humour and original photographic artwork.
We were still impressed by our existing suppliers: UK Greetings, for its new Hanson White humour range, WTF; Woodmansterne for its humour range, Truth Facts as well as The Great British Card Company for its humour range, Look At It This Way."
Sophie Greenwood, senior buyer, Funky Pigeon, Paper & Script and WHSmith Travel
"PG Live gets better and better. The standard of new product design this year was fantastic. Last year the Springboard section really stood out, but this year everyone pulled it out of the bag! PG Live is by far my favourite trade show. And why the hell wouldn't it be when's it all wrapped up with a free bar full of the industry's colourful characters at the end of the day!
I was hugely impressed at the show by some of my favourite smaller publishers, with how they are developing their brands. Notably Tasche Crafts, Libby McMullen, Rose Hill and Sooshichacha have really stretched their ranges and I'm so excited to be buying their products!
It has to be said that a lot of my older established accounts had amazing new ranges too. I was in stitches on the Paperlink stand looking at its new humour ranges! I can't wait to get some of the new designs planned in.
Hallmark had a completely fresh take with its excellent new humour range using comedians' quotes! Paper Salad certainly didn't disappoint with its stunning new seasonal design while The Art File completely wowed me with its wonderful new giftwrap. A hidden gem for me was Saffron. It had some gorgeous new designs that arte just perfect for our new upmarket stores."
Debbie and Gary Gaysmith, co-owners, Sherbourne Cards, Bournemouth
"This really is the friendliest show I have ever attended. The hospitality is first rate – the show was buzzing.
The real sparkler for me was Dandelion Stationery. We placed a good order across the titles and it is instore now and selling well. We also loved Belly Button's Denim range as well as the new range of Harold's Planet ages from Clare Maddicott, which we now have on display and is selling well."
Matt Shearing, co-owner, All Good Gifts, Battersea, London
"The products that stood out at the show, included Woodmansterne launching into chocolates, Beverstone Press' new humorous designs, Two Beans' lovely hand-finished product and Hallmark upping its independent offering in young comedy.
Other top memories were Paperlink's great stand, and thought the new Springboard Extra area on the Village Green near where you come in was good idea too. Also good to see that Card Crazy was doing well with my Copperplate range!"
Lisa Ameghino, buyer, Sainsbury's 
"It was my first visit to the show as I am new to the category and I found it extremely useful to meet all the brokers under one roof. It was wonderful to see so many great designs and innovation I am very much looking forward to working on future ranges. Roll on the next show!"
Miles Robinson and Nigel Williamson, partners in House of Cards, Home Counties
"A great PG Live; we certainly thought it the best one yet. The attention to detail in respect of looking after buyers is second to none and really does make PG Live the most enjoyable trade show of the year.
As far as specific ranges/companies that really caught our attention were:
Inspired Goodbyes: Fantastic concept and will make customers cry. Well worth expanding our sympathy section to incorporate some of these brilliantly worded sentiment cards. Catherine Kleeli: A different take on animal paintings with Catherine's unique style. I Drew This: Lovely children's cards, especially the ages and Grandson/Granddaughter captions, these will be winners I think. Its Little Tweets range has some great designs as well. Charlotte Elizabeth: Fantastic handmade fabric cards that can be personalised using tapestry board. The Sweet Print range is also very strong. Ruth Jackson: Something different and unique. Simple design works brilliantly. Dandelion: Absolutely brilliant quirky sentiment, occasions are winners! Belly Button: Going from strength to strength. Use of colour is great, especially on seasonal cards, which are super strong. Bexyboo Designs: Fun scrabble letter cards. Something different and unique. The Christmas designs are is stunning!"
Zoe York, greeting card buyer, Fenwick of Newcastle
"I thoroughly enjoyed the show, well done for doing such a good job yet again. A really good mix of publishers – and a fantastic lunch!
I thought the Pippi & Me designs were charming. The combination of felted animals, ditsy floral print backgrounds and an Instagram/photo booth styling was very on trend.
I spent my Retas Silver Ticket with the publisher, and may I say what a fantastic idea the tickets are. I had as much pleasure giving it to a new company as they did receiving it and all the other exhibitors generously applauded them as I handed it over, giving them a fantastic boost for the day!"
Paul Taylor and David Greaves, Cardzone
"PG Live is a really productive and buzzy environment that means a lot of work can be done in a relatively short period of time – and it has to be said London has some great restaurants!"
The UKG Hanson White stand had some really 'groovy' new humour product and it was good to see all the work going into Giggles. Cherry Orchard had some great new specialist/ line extension ranges and it was also interesting to see them venturing into milestone gift product.
The new Minions cards from Danilo were terrific and looked very commercial. Second Nature seems to relentlessly continue to produce a massive portfolio of very strong handmade cards, especially across female relations and wedding/anniversary. Some terrific new designs here again!"
Jane Chandler, director of M&P Cards/Occasions Cards and Gifts
"The PG Live exhibition is a great opportunity to check out new designs, and new artists, to ensure we have the best card offering available in our stores.
It is a much more intimate and relaxed environment, compared to other shows. It was good to see the support from so many suppliers in the industry. Fabulous lunch too!
The following ranges stood out for me, and will be going into our stores in the near future: Portfolio's Kirsten Burke (impactful on the card racks), Redback Cards' Argyle Sweater and Wulffmorgenthaler (great contemporary humour), GBBC's Thread Drawn (striking and very unusual artwork), plus the publisher's new handmade range from The Paper Gallery – good quality, great price points."
Sonya Haandrikman-Sibbald, co-owner, Celebrations, Carlisle
"PG Live gives us the opportunity to really focus on 'greeting cards'. We find that when we visit other trade shows we are so consumed with trying to find fresh and new gift ranges that we spend very little time in the card halls.
A lot of our suppliers are really forward-thinking and frequently update their designs and have reps or agents that call round to show us the new ranges, so we tend to think we are covered. However, PG Live opens doors to new and up-and-coming designers that we may not have necessarily have seen or may have bypassed previously in haste.
It is so nice to be able to have the time to talk our suppliers in the business, whom over the years have become more like friends – we are such a sociable industry and PG Live really celebrates this in style!
I really liked the new Hammond Gower range, Prive and thought the company's stand looked extremely eye-catching; great product coupled with the fact it is such a lovely company to deal with meant we placed a sizeable order! I also homed in on the Creation Express stand, which offers retailers the chance to personalise gifts in store, which is a fantastic idea.
The standard in the Springboard area was fantastic this year and we made a few orders from the small independent publishers, who are always lovely to support.
The major publishers also pulled out all the stops with UKG having a really fun and funky stand, Paperlink celebrating its 30th anniversary and Hallmark launching its new humour range, written by actual comedians which we were lucky enough to be invited to see at stand-up comedy show on the first night of PG!"
Amanda and Will Oscroft, Love It, Stamford and Bury St Edmunds
"We had a wonderful day at PG Live and certainly had lots to smile about. The warm exotic welcome from the Punjabi music and dancers was delightful and really got us in the mood. We always get a friendly welcome from the 'carded ladies' who hand us a goody bag, followed swiftly by a free cuppa, which is such a civilised British way to start any day, especially one where a lot of chatting and catching up is done.
The location of PG Live is perfect for a day or two in London and the Business Design Centre makes for a light airy environment, so easy to find your way around. The layout allows for popping back to stands and, after a lovely leisurely lunch, there's no stress in finding those stands which have impressed and with batteries recharged, we are ready to order from.
Those of us lucky enough to have Golden/Silver or Great finalists vouchers can enjoy a paparazzi moment with the photographer as we spend our prizes and feel very special.
This year we had a few favourite stands and had a real giggle at the fantastic humour on offer. We loved Dialectable Giftware, a fun range of cards and mugs and coasters with wonderfully refreshing everyday words used so effectively. Our favourites were 'numpty 'Daft Apeth' and 'flaming Nora.
We also loved Special Delivery Cards' eye-catching 3D cards, with fabulous artwork of dogs and cats and no silly words or slushy words – just simple and stunning. Dandelion Stationery was a stunning stand, with beautiful handmade cards made in England and hand-finished by people not machines. We are always keen to stock cards with glitter sparkle and pearl and these fit the bill perfectly.
Finally, Redback Cards. This stand stopped us in our tracks. The designs of animals painted on hands were superb while the publisher's rude worded cards had us screaming with laughter."
Irene, owner, Harriet and Dee, Manchester
"Congratulations on a great show! I'm sure the retailers appreciate the enormous amount of work that is necessary to come up with such a successful event. Thank you for an enjoyable day out – you can't say that about many trade shows!
Springboard is like a sweetie shop for us! Eloise Hall's tree was a sight to behold and her cards aren't half bad either! On the main floor Five Dollar's Christmas range was up to sparkle as was Paper Salad's everyday Trio collection. Belly Button's new navy and silver men's range also caught our eye."
Sean Austin, owner, Austin & Co, Malvern
"PG Live has an intimacy you just don't get with other shows. Springboard always excites me, unearthing the new design talent and taking a punt on the next big thing. Above all, it's the fact that everyone at the show shares the same passion for same thing.
I had two Retas tickets to spend at the show, one Gold and one Silver. The Silver went to Bexy Boo Designs for its Scrabbley Scribble range. I liked the high quality board, simplicity of design that was fresh but recognisable thanks to the lettered tile.
My Golden ticket went to Black Olive Studio, and its Rocca contemporary male-orientated range. Cards for men, and teenage boys in particular, are the Holy Grail, and like a Dan Brown novel, I think I may have found it with the Rocca range."
Liz Killick, owner, Calladoodles, Carshalton
"Good atmosphere, plenty of new exhibitors and products, delicious lunch, as usual, and the chance to meet new friends and old!
As evidenced by our Silver Ticket choices we particularly loved I Like Birds – super people, excellent unique designs – fresh, contemporary, covetable – I can see the company's ranges developing into textiles, homewares – one to watch! Liked the colour-in notecards option which feeds into the current vogue for grown-ups' colouring books.
Judy Lumley – we already stock these unique cards and lovely wrap and are delighted to see how the range is expanding. Judy is talented, witty and self-effacing.
We also spotted: Charlie Foxtrot – strong clear colours, great designs. We particulary liked its Monsters, Foxes, Cats (children's ages) ranges. Betty Etiquette – fresh, hand-painted look, you can almost feel the brushstrokes. The Inky Brush and Pomp & Circumstance ranges were also great. Bonnie Blackbird – its well-designed,amusing cards will appeal to our young Mums in particular, with the Sweet Pea and It's a Sign ranges standing out. Rose Hill – strong contemporary designs especially like the cat and dog personalities! Pigment – its new Emporium range will be a must. The Art File – its new stationery ranges and and new stand-up animal cards are great."
Ian Morris, MAP, London
"The show is great in many ways. It's easily accessible in wonderful part of London. The staff and exhibitors are all very 'upbeat' and of course there's the lovely lunch!
The show is just the right size, we can take time and enjoy it all, unlike other shows where you are 'watching the clock', eating lunch on the move and at the end of the day realising you have missed so much. The show is well laid out and has a great selection of exhibitors without compromising standards.
Three companies stood out, for differing reasons. For humour, Frankie Whistle stood out for us, the cards sell out really quickly and already he's built up a great customer fan base. I love his sense of humour.
Art Press is another 'stand out'. I love their selection of Illustrators, fine artists, printmakers and photographers. These are art cards that suit all occasions. Finally, a real gem for me at the show is Schucki Images. I was pleased to see Ilona showing such a wonderful collection of lenticular image cards and accessories with the added bonus that they are really well priced. We awarded Schucki our Golden Ticket."
Michelle and Jan, Box of Delights, Flitwick
"We just love this friendly informal show. We can sort all our buying for the rest of the year. Also the delicious lunch is great!
One new range that really caught our eye was Prive from Hammond Gower, it had a nostalgic feel that is reminiscent of 'Henry Butler' days, which is why we spent our silver ticket with the company. We think it will sell very well in our store.
Great to wish congratulations toPaperlink on its 30th birthday. We have been a stockist for 25 years and its humour cards aretop sellers. Five Dollar Shake's Christmas was beautiful and innovative, it just keep getting better.
We loved Belly Button's new male Platinum range! We ordered all 24 designs as we still find it difficult to get it right for teenage boys. Coulson Macleod was another stand out. We just loved the letterpress style and sentiment.
The Choc Therapy Belgian chocolates fromWoodmansterne was another product highlight for us. These were great would make a great add on sale, especially for thank you gifts. Also, the new Happy range from Wendy Jones-Blackett deserves a special mention as it is so very eye-catching, bright, cheerful and, as its range name suggests, happy!"
Mark Janson-Smith, founder, Postmark, Balham, Dulwich and Turnham Green
"It really was a cracking show and in my opinion the best selection of cards and suppliers in the seven years it has been running. The highlight for me is always going into Springboard and hunting out the next big thing!
The real stand-out find for me was Two Beans in theSpringboard section, who created a lot of buzz around the show. I managed to place my order first thing and the lead times were two – three weeks, by the end of the day they were quoting four – six weeks, so I was delighted to first on the stand!
Other stand out companies for me were: Eloise Hall – Her stand looked fab and the cards fly off the shelves. David + Goliath – Nice quirky, urban range. Pippi & Me – Cute, but in a nice way! The flying rabbit is going to be an absolute blinder!
Whiskey, Tango, Foxtrot – I wouldn't usually stop on a UK Greetings stand as a little too mainstream for us, but there were some great humour cards on show that are more suited for the smaller independents like us. The Art File – its new stand-up kids cards are just brilliant. This company justkeeps going from strength to strength."
Leona Janson-Smith, co-owner, Postmark
"Having listened to Mark (Janson-Smith, Leona's husband) talk about people in the industry for so long it was great to meet some of them and put names to faces.When I worked for the Mayor (Boris Johnson) I attended a lot of industry events and can say that PG Live 2015 was definitely up there for the quality and variety of what was on offer but also more importantly for the atmosphere, which was incredibly friendly with a real positive vibe."
Rohit Patel, owner, Paper Art, Finchley, London
"For card retailers, I believe, PG Live should be a 'must attend' show, as you can concentrate on a fantastic collection of greeting cards across a wide selection of publishers, and without distraction of non-greeting card exhibitors.
The show is always such a delight to attend. The ambience is happy, jovial and so full of colour and banter. An added bonus is the so very delicious food you fantastic people at PG Live serve for lunch! Many thanks for all that you guys do for our superlative industry!
Some of the ranges that particularly caught my eye this year were from Frankie Whistle, Woodmansterne publication's sparkling Opium range, Second Nature's Harmony range, Portfolio's new Kirsten Burke collection and their new additions to the NW10 range. Special Delivery has some fantastic new additions to their already great collection and so has UKG in their humour section and finally Art File are always so good at what they do.
So many of our publishers were showing, who thankfully, risk and invest so much to bring out new and innovative ranges on a regular basis which in turn helps retailers like me keep customer interest in our shops."
Hazel Walker and Jessie Matthews, buyers, Paperchase
"PG Live is great – so many cards under one roof, what's not to love!? It's the perfect way to catch up with current suppliers as well as discovering new talent.
We couldn't possibly pick a favourite, but we do love the Springboard area! There is so much great product in there and we always find a new and exciting publisher to work with – we're not saying who we found this year though, you'll have to wait until they're in store!"
Frances Burkle, head of buying, Paperchase
"I love PG Live. It's so great to see all the Card Publishers together, to explore what's new and to catch up with on all the industry news too!"
Pauline and Emma Gillett, co-owners, Special Occasions, Castle Bromwich
"We had a fab time! PG Live is by far the best trade show ever and, over the last 22 years we have been to them all. The atmosphere at PG Live is amazing and so friendly. There is so much great product to see that it os impossible to go and not place orders.
The PG Live team are brilliant. There could never be a trade show that makes everyone more welcome and, I must say, spoilt. One visit to PG Live and you are converted!
It was great to spend our Silver Ticket with Bluebell 33. It should be the PG Live rule that if you visit the show you have to have engaged with and purchased from at least one new supplier.
We really loved Bluebell 33. We have seen them before, but this time it just felt the right time to order. We also loved the new Hammond and Gower Prive range and all the new product from Hallmark."
Sally Matson, Red Card, Petworth
"The thing I really liked best about PG Live 2015 was the atmosphere; there was a real buzz and sense of enthusiasm in the air – I think it was definitely the best PG Live yet, and it really felt like now it is truly recognised as the premier greeting card show. I did the most buying I have ever done at PG Live this year, and I would like that trend to continue year-on-year, as the show is a manageable size, easy to get to, the environment and facilities are great, and I really like buying at a show that only has greeting cards.
My main focus at PG Live has always been the Springboard section; I use the show to find brand new companies that are offering something a little different, or to find a range that will fill a gap in what Red Card has to offer. This year was no exception and I felt the quality of the Springboard section was very high.
I was particularly impressed with Your Type Studio, and I think Susana is offering a really unique greeting card product that will prove very popular. It is also a lovely product to liven up window displays, which is always fun. I also purchased from Ilona Drew, of I Drew This as I think the artwork and detail on her cards is really beautiful, and again, unique.
Red Card is already stocking Molly Mae, but thought its new ranges were as strong as always. In the main section of the show, I was particularly impressed with Wendy Jones-Blackett, where I spent my Golden Ticket; there were some really strong new additions to ranges launched. I also loved Belly Button's new Denim range, and I bought across all the ranges at Pigment – its Happy Jackson, Etched and Alice Scott ranges are huge sellers for us at the moment."
Karen Ebers, Something Special, Edenbridge
"Once again, PG Live more than lived up to expectations. It simply is the best show of the year! The easy to get to location and the light, bright venue contribute to making the atmosphere relaxed and stress free. The hospitality provided is second to none, free refreshments, amazing lunch and an awesome after show party stunningly decorated by sponsors Paper Salad and Paperlink respectively.
The mix of publishers, both large and small, established and newbies offers something for everyone. The wealth of product launched at the show, be it new ranges or new designs within existing ranges, is overwhelming.
My personal favourites at the show this year were Special Delivery Cards' 3D Animals, Wrendale Designs, Claire Maddicott's Wishing On A Star and the new Laura Darrington range of wrap, bags and tissue paper by Glick – all of which I either have or will be ordering shortly. The investment in new product shown by The Great British Card Company, Hanson White and Paperlink was certainly impressive.
I am looking forward to seeing much of it on my card racks over the coming months – especially the Avanti Press range which I used to stock many years ago when Hanson White had the licence and it flew off the racks. Also worthy of note are Go Stationery's ever increasing range of products, Woodmansterne's new venture into the world of confectionery with its Choc Therapy and Cherry Orchard's Memory Lane mugs to compliment the ever popular card range of the same name."